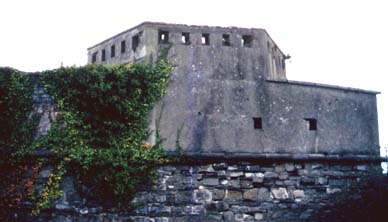 A wall of the Magazine Fort in Phoenix Park, built c. 1734 to defend the Irish during the period of English rule. It had been used as a military museum for many years but is in a state of disrepair and presently under reconstruction.
Upon its completion Jonathan Swift wrote:
Behold the proof of Irish sense,
Here Irish wit is seen.
When nothing's left that needs defence,
Build a magazine.
from Finnegans Wake, 45.1-6:

Have you heard of one Humpty Dumpty
How he fell with a roll and a rumble
And curled up like Lord Olofa Crumple
By the butt of the Magaine Wall.
(Chorus) Of the Magazine Wall,
Hump, helmet and all?

Photo and information by Faith Steinberg.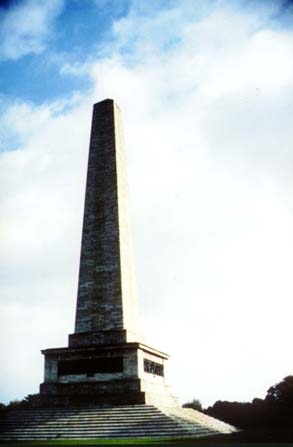 The Wellington Monument in Phoenix Park, Dublin, a granite obelisk designed by Sir Robert Smirke and erected in 1817, 205 feet tall and said to be the highest at the time. Named for the Dublin-born Duke of Wellington who defeated Napoleon at the Battle of Waterloo, around the base are scenes in bas-relief from the various battles of the Duke. The Willingdone Museyroom in the Wake (8.10) is a conflation of the monument and the museum in the Magazine Fort, also in Phoenix Park (see above). In this section, 8.1 -- 10.23, Joyce derides Wellington as a British turncoat. The monument is also referred to throught the Wake, often as a phallic symbol.

Photo and information by Faith Steinberg.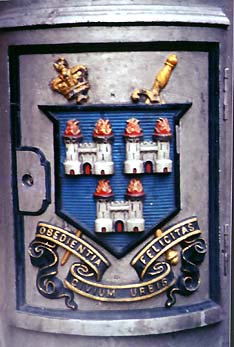 Shield from Dublin City coat of arms can be seen on lampposts and handsome litter cans around Dublin. It bears the motto, Obedientia Civium Urbis Felicitas, Obedient citizens make for a happy city, as recorded in Ulster's Office Visitation of Dublin, 1607 (see Fox-Davies, The Book of Public Arms, 1915, III, 5-1). In the words of Joyce from the Wake, "the hersomeness of the burger felicitates the whole of the polis," (23.14-15), "obedience of the citizens elp the ealth of the ole," (76.9), "obedient of civility in urbanious at felicity, " (277.8), "Obeyance from the townsmen spills felixity by the toun," (540.25-26), and passim. Likewise the three castles are from the coat of arms of Dublin: "three shuttoned castles (22.34), "of three castles" (101.23, and passim.
Photo and information by Faith Steinberg.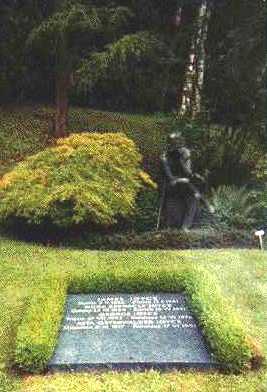 Joyce's grave in Zurich. Joyce died of a perforated ulcer in Zurich on January 13th, 1941. He is buried in Fluntern Cemetery; and the sculpture is by Milton Hebald. It is close by the zoo. "He was awfully fond of the lions," Nora once remarked, "I like to think of him lying there and listening to them roar."
Photo by Jan Hoeper, information by Ciceil Gross.