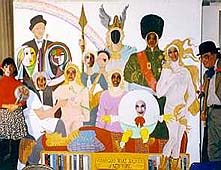 Nine Characters in
Search of a Wake
A Panel Play
by Ciceil L. Gross
© copyright, 1996 by Ciceil L. Gross
An introduction to the themes in Finnegans Wake
The Panel Play
Panel & Characters
The Claybill
The Text - introduction
Scene I
Scene II
Scene III
Scene IV
Scene V
Scene VI
Preface
The play introduces Finnegans Wake in a playful rather than didactic manner. Accordingly, while the script utilizes actual text from the book, it twists, revises and rearranges it, puts words into the mouths of those who never said them and generally violates times and sequence - to capture a Joycean mood while making Finnegans Wake more accessible.

Imagine a 7-layer cake.

In the bottom layer is HCE, a tavern-keeper with wife, ALP, and three children.

Next layer: they are Adam and Eve and Cain and Abel, and all who fall.

Another layer: Tristan and Isolde and King Mark.

A mythological layer: Finn MacCool, King Arthur's Court, the giants that walked the earth.

Historical layer: Parnell, Napoleon, Wellington.

Musical: Wagner, Irish airs, popular songs, children's games, nursery rhymes.

Communication: language, writing, printing, press, radio, TV.

The seven layers and more are mixed and stirred - ABRACADABRA! a marble cake - it's
FINNEGANS WAKE!
The Cast
(in order of appearance)
Narrator
Anna Livia Plurabelle, aka ALP
Humphrey Chimpden Earwicker, aka HCE
Humpty Dumpty
Eve
Tristan
Shem & Shaun
Issy
Isolde
Russian General

All the action takes place someplace.

Scene I At the Wake
Scene II Marriage and the Family
Scene III The Crime in the Park
Scene IV Young & Old, Love & Incest, Tristan & Isolde
Scene V Buckley and the Russian General
Scene VI Back to the Wake